A B O U T
m o k r o ï é is Francesco Virgilio's electro (trip-hop, pop, industrial, soul) project combining music, image, video and remixes. Over the years, with GLOBAL-SYSTEM-ERROR, MACHINES & SOUL, and now WORKS2K21, m o k r o ï é continues his collaborations and explorations.
After the release of critically acclaimed MACHINES & SOUL late 2019, Francesco devotes his time to different projects including WORKS2K21 an EP to be released digitally on November 19, 2021. It features one new instrumental track and three remixes for bands and collaborators Howlite (Australia) and TRANK (France).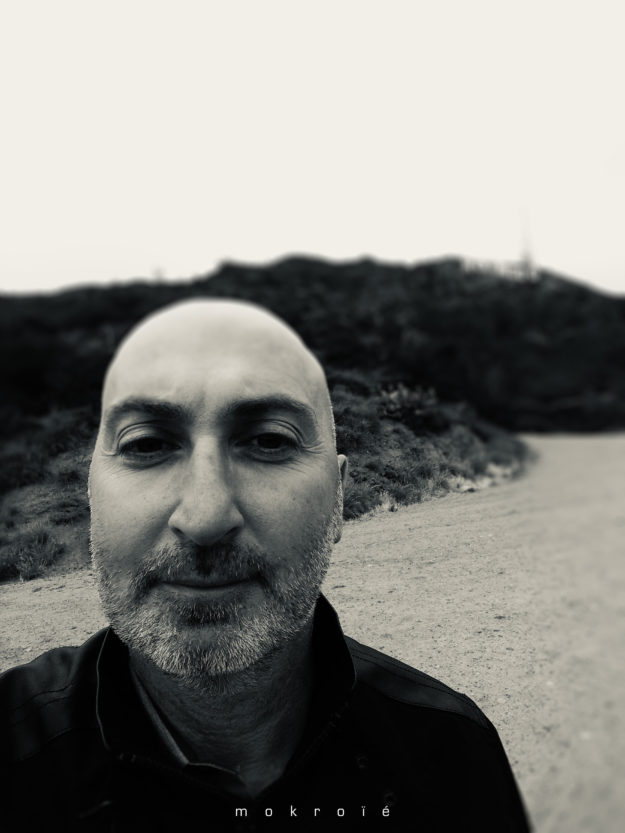 ---
m o k r o ï é est le projet electro (trip-hop, pop, indus, soul) de Francesco Virgilio combinant musique, image, vidéo, et remixes. Au fil de ses réalisations (l'EP GLOBAL-SYSTEM-ERROR, son album MACHINES & SOUL), et aujourd'hui WORKS2K21, m o k r o ï é poursuit ses collaborations et explorations.
Après le succès de MACHINES & SOUL sorti fin 2019, Francesco consacre son temps à différents projets dont l'EP WORKS2K21 qui sortira sur toutes les plateformes numériques le 19 Novembre 2021. L'EP comprend un nouveau titre instrumental, un remix pour le groupe Australien Howlite et deux remixes pour le groupe rock français TRANK.
---
m o k r o ï e is, for Francesco, the village where Dmitri Karamazov* experienced a moment of euphoria and intense happiness, followed by a moment of despair and pain of the same intensity (*"The Brothers Karamazov" / F. Dostoyevsky
m o k r o ï é est, pour Francesco le village où Dimitri Karamazov* a vécu un moment d'euphorie et de bonheur intense, suivi d'un moment de désespoir et de douleur de même intensité (*« Les Frères Karamazov » / F. Dostoïevski)
---